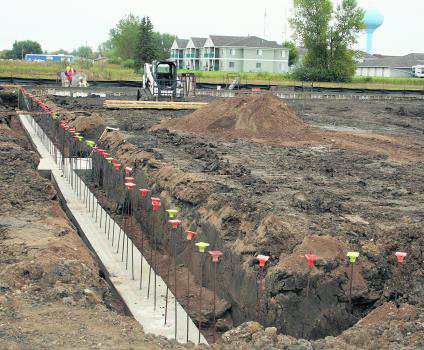 Work Begins on 104-Unit Apartment Complex – 
A groundbreaking ceremony was held Thursday, Sept. 17 for a new 104-unit apartment complex in Thief River Falls. One 52-unit building is expected to be ready for occupancy in June 2016. The other is expected to be completed in December 2016.
Mayor Brian Holmer called the West River Falls Estates project a step forward to solving some of the housing shortage in the city of Thief River Falls. He thanked the Thief River Falls School District and Pennington County Board for their assistance in providing funding for the project.
Construction began Tuesday, Sept. 8 on the first apartment building, which will be constructed on a property commonly referred to as the Noper property. The complex will be located along Ruby Avenue, southeast of RV Sports.
The apartment complex will feature two buildings with 25 heated garage stalls attached to each building. The market-rate apartment buildings will feature a combination of efficiency units, one-bedroom units, two-bedroom units and three-bedroom units.
Skip Duchesneau, president of D.W. Jones Inc., said the total development is estimated to cost $10.4 million with the construction cost just shy of $9.5 million. The city of Thief River Falls, Thief River Falls School District and Pennington County are providing a total $400,000 tax abatement for the project for a maximum of four years. Under the tax abatement, D.W. Jones Inc. will pay its taxes in full. However, the firm will receive a rebate of the increased taxes once the development has been completed. That money will then be used for the development.
The Minnesota Department of Employment and Economic Development provided a $400,000 grant for infrastructure improvements to the city, which enabled the city to donate the land and improvements to West River Falls Estates.
"The project has not been easy," said Duchesneau, who referred to a holdup with the DEED grant. This summer, DEED indicated that prevailing wage applied to the project. City officials were later notified that the prevailing wage could be used for only the city's portion of the infrastructure costs.
Duchesneau thanked a multitude of partners for their support in helping the project become reality. He thanked City Administrator Larry Kruse, Community Services Director Mark Borseth and Pennington County Economic Development Director Christine Anderson. He noted the project wouldn't have been possible without them. Duchesneau also thanked Rep. Dan Fabian and Sen. LeRoy Stumpf, who carried the bill that eventually led to the DEED funding. Thanks were also given to Kruse and DEED employee Christine Schieber for their ingenuity in securing DEED funding.
Thief River Falls resident Mike Hron, who is part of the ownership group of West River Falls Estates, thanked representatives of Arctic Cat and Digi-Key. He noted that they have provided continued support to the West River Falls Estates project and other projects. Hron also thanked Duchesneau for providing his invaluable expertise and knowledge.
by April Scheinoha, Reporter
Thief River Falls Times